Include demands in manifesto for support: Farm unions to parties
Posted at: Mar 15, 2019, 7:15 AM; last updated: Mar 15, 2019, 7:15 AM (IST)
Include demands in manifesto for support: Farm unions to parties
Implementation of C2+50 as per Swaminathan panel
Unconditional waiver of all loans of all the farmers
Change in PM's crop scheme
Income support of Rs 10,000 per acre per year per farmer
Pension of at least Rs 5,000 per month after 60 years
Action plan for protection from wild and stray animals
Outstanding payment to cane farmers without delay
Free electricity for irrigation via tubewells
Agriculture must be kept out of World Trade Organisation
No talks on agriculture in any free-trade agreements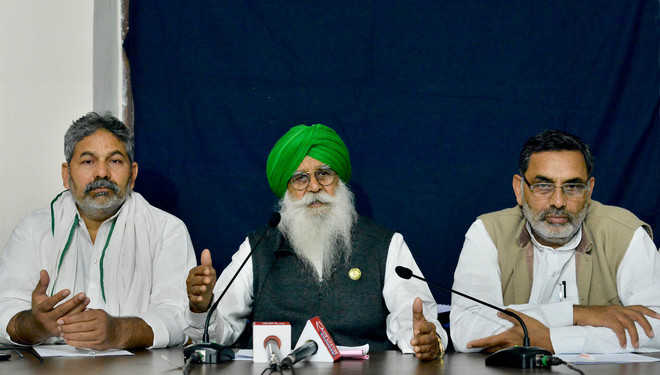 Vibha Sharma
Tribune News Service
New Delhi, March 14
Not satisfied with Narendra Modi-led NDA government "pro-farmer" measures, including the recent PM-Kisan scheme, farmers' unions today asked parties to include in their respective manifestos the charter of demands to get their support in the coming elections.
The All-India Coordination Committee of Farmers' Movement comprises around 40 farmers' unions, including Bhartiya Kisan Union (BKU), Karnataka Rajya Raitha Sangha (KRRS), Tamilaga Vivasaiyagl Sangham (TVS) and the Adivasi Gothra Mahasabha (AGM). It has asked parties to list its 18 demands and give a clear timeline as to when these would be implemented.
Rejecting the Regional Comprehensive Economic Partnership (RCEP) free trade agreement, which India is currently negotiating with 16 countries, include major economies like China, Australia, Japan and 10 ASEAN countries, the unions also warned that any "attack on food sovereignty and farmers rights will be met with huge resistance".
"Countries will dump surplus and capture our massive markets. RCEP will manipulate our seed laws, strengthen seed companies and their patents and restrict farmers' freedom. We warn them that any attack on our food sovereignty and farmers' rights will be met with huge resistance," said Yudhvir Singh, coordinator of the movement.
The RCEP will remove tariffs on 92 per cent of traded commodities and open floodgates to cheap imports, destroying India's already stressed farm sector, as per farmers. RCEP goes beyond the WTO in terms of restrictions and impact on farmers. Even though India has been resisting and requesting to restrict the percent of tariff cuts to only 80 per cent of traded goods and not 92 per cent as demanded, RCEP will not allow India to raise duties at a later date — a provision that even the WTO did not impose, they said.
Courtesy: The Tribune