Last time Earth experienced a cooler-than-average month was in 1984 – thanks to global warming
Earth's global average temperatures have been on a steady rise since 1984 and it is getting hotter and hotter every month.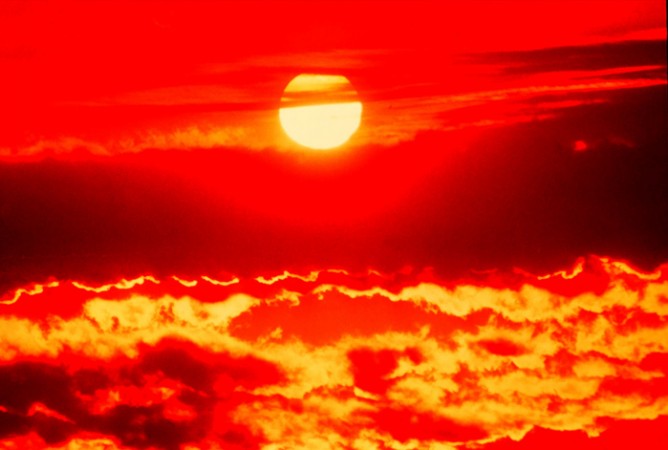 The Earth is getting warmer by the year, and the rate at which it is getting warmer is worrying. Since December 1984, we have experienced 400 consecutive "warmer-than-average" months, and it is getting worse.
To put that in perspective, Ronald Reagan was still in office in the US and Indira Gandhi had just been assassinated in 1984; that was 34 years ago. It was the last time that the planet enjoyed a "cooler-than-average" month, a new study has found. The study was conducted by the National Oceanic and Atmospheric Administration (NOAA), reports USA Today.
Scientists believe that humans might be behind the climate change. "We live in and share a world that is unequivocally, appreciably and consequentially warmer than just a few decades ago, and our world continues to warm," said NOAA climate scientist Deke Arndt. "Speeding by a '400' sign only underscores that, but it does not prove anything new."
"The thing that really matters is that, by whatever metric, we've spent every month for several decades on the warm side of any reasonable baseline," he said.
April 2018 was the third-warmest April on record. The heat was felt mostly in Europe where last month was the warmest April ever and Australia had its second-warmest April. Pakistan recorded a maximum temperature of 122.4 degrees F on April 30, making it the warmest temperature ever recorded globally, for the month of April. Argentina is another country that just had its hottest-ever April on record.
On a year-to-date measure, Earth is currently experiencing its fifth-warmest start to the year, notes the report.
Even NASA's research, which was conducted independently of NOAA's found the exact same result – last month was the third-warmest April on record. Apart from the heat, the Earth saw a new milestone being set for the carbon dioxide levels. CO2, the gas that scientists say is most responsible for global warming reached 410 ppm, an all-time high (in the last 800,000 years), and it does not seem like it is going to slow down.
To make matters worse, someone in eastern Asia is dumping CFC-11 into the atmosphere. The chemical has been banned since the Montreal Protocol was announced in 1987, and this regulation is reported as the second largest cause for the ozone recovery in the last 30 years.
12 total views, 1 views today