Opposition Unites In Bid To Halt Turkey's March Toward One-Man Rule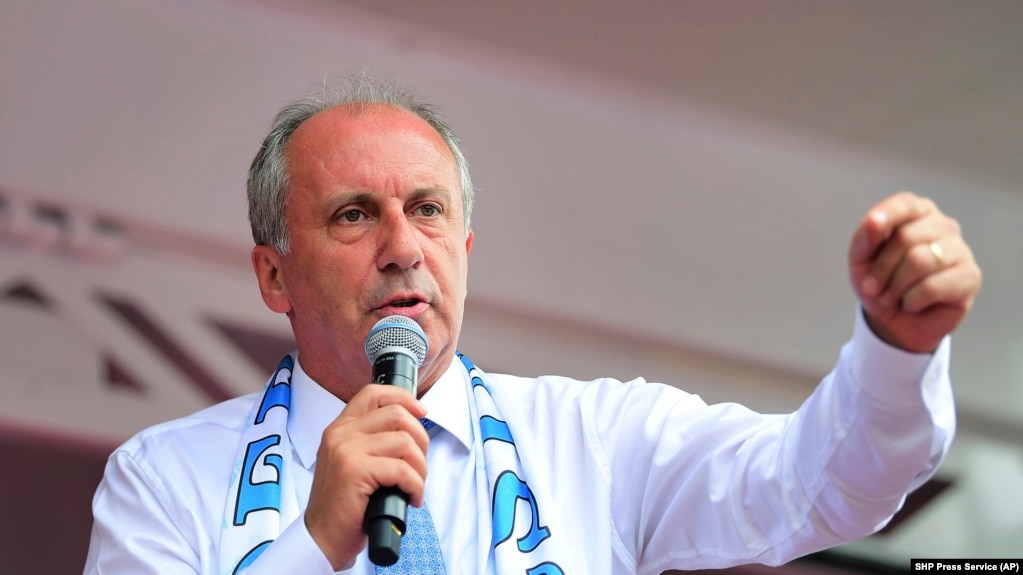 Hoping to prevent incumbent Recep Tayyip Erdogan from being reelected, disparate opposition parties have come together in an unlikely alliance for both the parliamentary and presidential votes on June 24.
That newly formed Nation Alliance backs the secularist opposition Republican People's Party (CHP) nominee, Muharrem Ince, for president.
It includes secular social democrats, center-right conservatives, nationalist liberal conservatives, and conservative Islamists.
See video report: "Erdogan's Authority To Be Tested In Turkish Polls"
Parliamentary candidates from the Nation Alliance vow that, if they secure majority control of the legislature, they'll roll back the constitutional amendments that were narrowly approved in a controversial 2017 referendum — amendments coming into force after the election that will transform Turkey's parliamentary system into a presidential system of government.
In addition to expanding presidential powers, those amendments also will scrap the post of prime minister and abolish many checks and balances that were designed to help parliament protect against the misuse of presidential powers.
Erdogan's Justice and Development Party (AKP) and its junior coalition partner, the far-right Nationalist Movement Party (MHP), drafted the amendments and passed them into law in the hope of cementing Erdogan's rule — a rule that many independent experts agree has been moving increasingly toward authoritarianism.
Ray Of Hope For Opposition Candidate
Erdogan's popularity appears to be waning in recent months amid a deteriorating economy, his entrenched opposition to Kurds across the region, and concerns about his widespread crackdown on political rivals since the failed military coup that took place in Turkey in 2016.
Erdogan is still thought to have a strong chance of being reelected to a five-year term.
But opinion polls suggest it will be difficult for Erdogan to win outright in a fairly conducted first round, and that he most likely would face a July 8 runoff against Ince.
Gonul Tol, director of Turkish studies at the Washington-based Middle East Institute, tells RFE/RL that the 2018 elections "might very well be the last chance, the last exit, before Turkey's fast descent into authoritarianism" under Erdogan.
Tol says Ince does have a chance to defeat Erdogan in a second-round presidential vote — assuming that voting and the official ballot count are conducted without widespread irregularities.
But to do so, Tol says Ince must appeal to Kurdish voters across Turkey and, most importantly, "convince the AKP's religious conservatives that the religious freedoms they have obtained under Erdogan's rule will remain in place."
Nick Danforth, a senior analyst at the Washington-based Bipartisan Policy Center, tells RFE/RL that "if the votes are counted fairly, the opposition would have a very good chance of stopping Erdogan in the first round."
"In the second round, if the opposition could all come together behind Ince and if the vote is counted fairly, he certainly would have a chance of beating Erdogan," Danforth says. "But those are big 'ifs.'"
Kurdish Vote Count — Key To Parliamentary Control
Meanwhile, Tol says the key for the opposition to win a parliamentary majority is for Kurdish candidates in the Peoples' Democratic Party (HDP) to secure the minimum 10 percent of the national vote required to win legislative seats.
Political analysts conclude that such a development would make it nearly impossible for the AKP and its allies to maintain its current parliamentary majority — especially with diminishing support for the AKP's nationalist MHP allies.
Danforth says that has raised concerns about the kind of outcome-altering electoral fraud alleged by the opposition during Turkey's 2017 constitutional referendum — allegations of ballot-box stuffing involving more than 1.5 million fraudulent votes.
"There has never been the degree of concern about the actual counting of votes, the fairness of a vote in Turkey, as there is now — especially in the southeast, the predominantly Kurdish part of the country," Danforth tells RFE/RL.
"In order to get a majority in parliament, all Erdogan would have to do is keep the predominantly Kurdish party under 10 percent," Danforth explains. "If they did that through voter suppression or fraud, that would be a guaranteed way for the AKP to get a majority in parliament."
Even if without electoral fraud, Tol says the 2018 presidential and parliamentary election campaigns have "not been free and fair."
She says Erdogan's post-coup crackdown under an ongoing state of emergency has stifled opposition media across the country.
It also has made it difficult for Kurdish campaigners to work toward crossing the 10 percent threshold.
More than a dozen HDP lawmakers elected in 2015 have been jailed on terrorism charges deemed by Human Rights Watch as politically motivated.
The HDP's presidential candidate, Selahattin Demirtas, also has been forced to run his campaign from a jail cell where he awaits trial on terrorism charges that international rights groups have described as bogus.
On June 20, more than 50 HDP members and canvassers were detained across Turkey along with senior figures for the HDP's sister organization, the Democratic Regions Party (DBP), in mainly Kurdish southeastern Turkey.
Election officials also recently changed the locations of many polling stations in southeastern Turkey where Kurdish voters have cast their ballots for decades.
The HDP says those moves all have clearly been aimed at undermining its efforts to win parliamentary representation.
HDP leaders charge that vote rigging by electoral officials is inevitable in southeastern Turkey.
They say they need to win at least 15 percent of the parliamentary vote to ensure at least 10 percent in the official results.
Election Aftermath
"If Erdogan wins the presidency but his ruling party loses its parliamentary majority, I think the parliament can still play some role in terms of counterbalancing Erdogan," Tol says.
"But it will be extremely difficult to have a functioning democratic system and put Turkish democracy back on track, even with a parliament that is controlled by the opposition," Tol concludes. "The ideal situation for Turkish democracy is where the opposition wins both the presidency and the parliament."
But even then, she says, rival agendas of parties in the National Alliance on issues other than opposition to Erdogan and the AKP raise questions about whether the alliance would be able to stay united long enough to reverse Turkey's recent march toward one-man rule.
13 total views, 1 views today