5 April 2022
SALUTE HEROIC RALLY OF 7 PEASANT ORGANIZATIONS IN CHANDIGARH SAYS HARSH THAKOR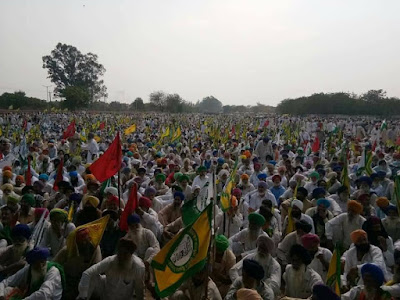 SALUTE HEROIC RALLY OF 7 PEASANT ORGANIZATIONS IN CHANDIGARH FIGHTING AGAINST DEBT ENSLAVEMENT LOAN WAIVER AND FOR COMPENSATION TO ALL SUICIDE VICTIM'S FAMILIES.

IN SPITE OF HEAVY POLICE BARRICADE AND ATTEMPTS TO SUPPRESS AGITATION .

20000 PEASANTS MARCHED INTO CHANDIGARH CREATING VIBRATIONS OF A TORNADO.WITH GREAT COURAGE THE PEASANTS DEFIED THE ADMINISTRATION PROVING THAT ANY DEMOCRATIC RIGHT TO STRUGGLE CAN NEVER BE WON THROUGH LEGAL STRUCTURES BUT BY ORGANIZED RESISTANCE.

LIGHT OF EMANCIPATION FROM CLUTCHES OF FASCIST GOVT.POLICIES SHIMMERED AT THE VENUE AT SECTOR 25.
Salute heroic defiance of peasants in Chandigarh rally prove that hope in the current system is futile.
In spite of heavy police barricades 20000 thronged into the capital.Pledged to fight against Debt enslavement ,for loan waiver and for compensation to families of all suicide victims .
Tragically on return 2 separate accidents occurred because of rash driving killing 6 peasants and injuring 10.
Peasant leaders demand a govt job for all injured victims and financial compensation.Chandigarh, Apr 3 (PTI) Several farmers from various parts of Punjab today gathered here and held a rally for their several demands including full loan waiver and higher compensation amount for farmers who commit suicide.
The farmers assembled at Sector 25 here to participate in the protest rally on the call given by seven farmers outfits, including Bhartiya Kisan Union (Ekta), BKU (Dakonda), Kirti Kisan Union, Kisan Sangharsh Committee, and BKU (Krantikari).
The farmers raised slogans against the Punjab government and the Centre and said the rally was a "warning" to both the governments.
"Farmers in Punjab are being forced to commit suicides as they are unable to pay their debts. Our main demand is that the debt of those farmers and farm labourers who cannot pay their loans taken from banks, Arthiyas etc should be waived," said BKU (Ekta) General Secretary Sukhdev Singh Kokrikalan.
"This rally is a warning to both Punjab and Central governments for not implementing their promises made to the farmers," he said.
Kokrikalan also demanded remunerative prices for all the crops so farmers get better prices for their produce.
"The government should also pay farmers for vegetable, maize, Basmati etc as per the recommendation of the Swaminathan Commission report," he said.
The farmers also demanded that they should be given Rs 200 per acre as bonus for managing the crop residue.
"Till the farmers are not given Rs 200 per acre, no case should be registered against them for burning crop residue," said Kokrikalan.
The farmers also sought Rs 10 lakh compensation each for farmers who commit suicides after failing to pay their debt and a government job to one family member of these farmers.
"If our demands aren't met, we will again hold a massive rally against the government after the completion of ongoing crop harvesting," he said.