Organisations staged a hunger strike against Citizenships Bill
Modi assures to pass Citizenship Bill
Source: IT News
Silchar, January 05 2019: Many organisations including Assam Indigenous Peoples Protection Committee, AIPPC, Manipuri Youths Front Assam, MYFA, Kishan Mukti Sangram Samiti, KMSS, Assam Manipuri Muslim Youths Front, AMMYF, Yaifalup, AIPPC Team Gardens cell, Muslim Development Council, MDC,Namasudra Parishad, Indigenous Students and Youths Forum, Assam jointly staged a hunger strike at VIP Road, Rongpur in Silchar on this Friday against the proposed Citizenship Amendment Bill,2016 .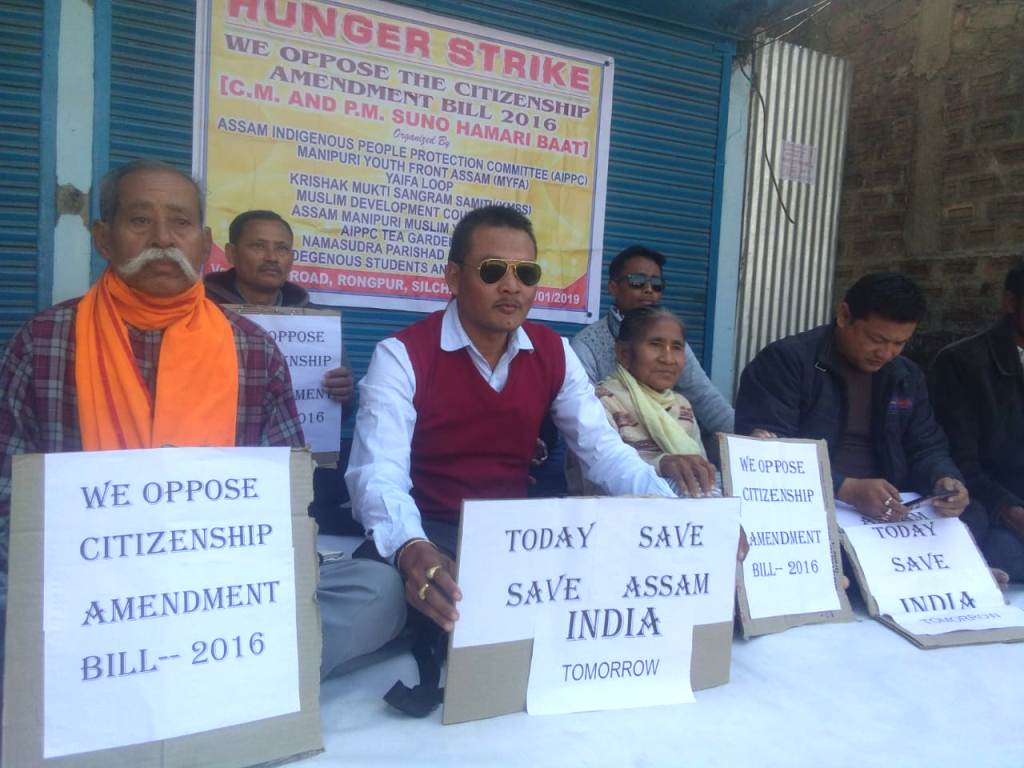 Organisations staged hunger strike against Citizenships Bill
Speaking during the hunger protest AIPPC General Secretary Seram Herajit said BJP led central government didn't respect the sentiments of the indigenous peoples of North East.
The future of indigenous peoples will be ruined if the bill is passed , Herajit added.
AIPPC president Manmohan Barman mentioned that if the bill is passed , Assam will face Tripura like situations.
KMSS president Rukon Uddin Barbhuiya, Okram Lakhikanto, Sanathoi Devi, Tomij Uddin, Ahmed Hussain were also participated in the hunger protest.
Meanwhile, while speaking on the event of "Bijay Sangkalp Samabesh" here at Ramnagar in Silchar, Prime Minister Narendra Modi assured the crowds that the Citizenship Amendment Bill will be passed in the parliament soon.
Prime Minister Modi also assured that no Indian citizens will be debarred from NRC.