Protests over Bordumsa killings in Tinsukia
ANN Service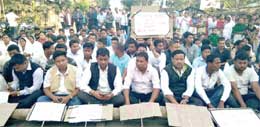 DIGBOI, Dec 12 - Following the brutal killing of the father-son duo by ULFA ultras on Monday evening at Simoluguri village of Hunjan area in Kakopather under Bordumsa Police Station, protesters from various corners of the district unanimously lambasted the security forces for failing to ensure protection of life and property of the common people in Tinsukia district. Aggrieved organisations, including the AASU, All Assam Moran Students Union, AJYCP, etc., took to the streets here shouting slogans against the police and Sarbananda Sonowal-led BJP government in the State for their gross failure to provide security and safety despite having material inputs confirming the movements of ULFA militants in the area earlier in the morning on the fateful day.
Meanwhile, Doomdooma police has apprehended Pranjal Moran, Nabakanta Boruah and Diganta Saikia who have suspected to be involved in the killing of the father-son duo.
The death of Anteswar Mahanta and Karun Mahanta at the hands of ULFA cadres was mourned by people at large. They called a Kakopathar town bandh from 10 am to 4 pm today and staged a road blockade at Hunjan Tiniali on the NH-52. A protest rally by local organisations was also taken out. Shocked, furious and aggrieved people and organisations demanded justice for the slain father and son. They also demanded action against the ultra group.
Meanwhile, Sarbananda Sonowal has declared a one-time financial assistance of Rs 5 lakh to each deceased to be given to the grief-stricken family.
It may be added here that Anteswar Mahanta, who was the president of Simoluguri VDP and an active grassroots level member of the BJP, had always opposed ULFA militants on various occasions earlier.
Claiming responsibility of killing the father-son duo for spying, the ULFA in a press communique said that the deceased were working against the banned organisation.
However, operations against the ULFA continued at various vulnerable places across the Tinsukia district and along the inter-state border.
Meanwhile, fear psychosis among the people, including tea garden workers and factory owners in particular, prevails as the group of newly-trained militants under the leadership of Rupam Asom hasn't been effectively contained. Tea gardens such as Sri Krishna, Bogapani, Hollongabi in Digboi, MKB and Lalung in Bordumsa, and Samdung in Doomdooma have been alerted and additional security has been ensured by the police to thwart the ultra outfit's designs.
IGP RK Meena, who has been camping in Tinsukia for around 15 days expecting the surrender of a few hardcore ULFA militants, has been personally monitoring the operation after the Kakopather incident.
Meanwhile, the bodies of the father-son duo were brought to their home with due honour from Tinsukia Civil Hospital in a huge procession. The cremation took place this evening.
Meanwhile, the Moran Students Union in association with various local student organisations has called a 12-hour dawn-to-dusk bandh in Tinsukia district in protest against the killing.